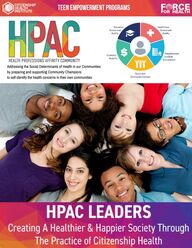 Return to flip book view
HPAC Community Health Workers Program
Page 1
HPAC Competencies Model HPAC Summary The Health Professions Affinity Community HPAC pipeline program designed to engage students in the health concerns of their communities help them to develop strategies to address those health concerns with existing community resources and ultimately support their academic and career development leading to health professions HPAC encourages students and their communities to focus on their unique local community health challenges learn about and support the community through service learning activities that address pressing health concerns e g obesity bullying depression empower rural and urban communities to employ their resources to support students in their pursuit of health professions training and careers and embed student learning in the fabric of the community from the earliest stages of their education through the time they are ready to practice The HPAC model promotes the expression of student voice by offering activities that inspire students to assert and take charge of their academic and career development by connecting these two important life tasks to the health concerns of students and the opportunity to get engaged in those concerns Students find meaning in these activities which in turn enhances the non academic aspects building increased motivation self management and social connectedness of academic success HPAC offers students the method and means to develop Habits of Mind that will bolster their own academic success future workforce plans and how those plans can become manifested as health care professionals 1
Page 2
1 HPAC Competencies Model HPAC Summary The Health Professions Affinity Community (HPAC) pipeline program designed to engage students in the health concerns of their communities, help them to develop strategies to address those health concerns with existing community resources, and ultimately support their academic and career development leading to health professions. HPAC encourages students and their communities to: • focus on their unique local community health challenges; • learn about and support the community through service learning activities that address pressing health concerns (e.g., obesity, bullying, depression); • empower rural and urban communities to employ their resources to support students in their pursuit of health professions training and careers; and • embed student learning in the fabric of the community from the earliest stages of their education through the time they are ready to practice. The HPAC model promotes the expression of student voice by offering activities that inspire students to assert and take charge of their academic and career development by connecting these two important life tasks to the health concerns of students and the opportunity to get engaged in those concerns. Students find meaning in these activities, which in turn enhances the non-academic aspects (building increased motivation, self-management and social connectedness) of academic success. HPAC offers students the method and means to develop Habits of Mind that will bolster their own academic success, future workforce plans, and how those plans can become manifested as health care professionals.
Page 3
2 Challenges HPAC Addresses Needs Barriers Intervention Impact Insufficient academic preparation to be competitive in health professions training pathways. Students have a limited grasp of the academic requirements and the resources to achieve them. Robust and ongoing opportunities to understand, meet and exceed expectations. Students demonstrate improved academic performance and attainment Few extracurricular opportunities in the health professions that are generally disconnected from each other. Students have a limited exposure to health professions experiences that tend to be disconnected. This limits the impact and reach of these programs. Offer opportunities for students to engage in local health initiatives and clinical settings with health professions students and personnel. Link existing programs. Students have a rich array of experiences enhancing academic social connectivity and motivation and ultimately their competitiveness in holistic admissions processes. Stakeholders have an inadequate understanding of health professions training and career opportunities. Stakeholders are unaware of the opportunities and demands of health professions degrees nor how to build sustainable pathways leading to them. Stakeholders unite to promote health professions training opportunities. All share an improved understanding of the training pathway and how to enhance it. Stakeholders support students pursuing health professions training and careers. Stakeholders begin to understand the requirements of these pathways. Health professions training programs and disadvantaged communities are disconnected Few training programs exist in disadvantaged communities and few disadvantaged students pursue or are admitted to them. Distressed communities have no voice in the process. Embed health professions training in distressed communities and successfully prepare students for these programs. Engage communities to become advocates in the system. Health professions training programs become part of the fabric of distressed communities and vice versa. Pathways are sought for and supported by the community partnership. University services and community efforts to support disadvantaged students are not coordinated. Educational and community services are accountable to different standards and outcomes, which limit their potential efficiency and impact. Resources unite to embrace diversity as a core part of their mission and reorganize to serve disadvantaged students and partner with community. Students improve their engagement and performance in academic and extracurricular pursuits aligned with the health professions in their communities. Socio-behavioral-emotional health of students Students are impacted or affected by ongoing substance abuse disorder experienced either by themselves, or their family, friend or community members. Resources to provide social support, education, skills to positively cope with adverse situations. Students improve their coping skills, increased resilience and community awareness
Page 4
3 Module Approach Curriculum and Action Plan for the HPAC champion 1. Module One: Explore, prioritize, and learn about the pressing health concerns in your community. Students will… • Conduct a brief survey of community members to learn about their health concerns. • Employ library, internet, and health professional sources to elaborate on the informal survey to elaborate on the list of health concerns. Focus on the credibility of the source. • Prioritize the list on the basis of students' interests, values, capabilities, and the relative importance of the concern for their community. • Share the list and priorities with community stakeholders to get their input. • Continue through a few cycles of learning to select a primary health concern and learn deeply about it until a focused aspect of the health concern is selected. 2. Module Two: Asset-based paradigm and introduction of topics. Students will… • Discuss the importance of an asset-based paradigm. • Identify ways that health professionals interact with the communities in which they practice. • Describe how priorities are determined with regard to community health. • Describe the strategies of working in teams. • Perform a basic community assessment. • Identify potential project areas within their communities. • Determine how the health concern aligns with resources and adjust as needed. 3. Module Three: Develop a program plan. Students explore the science of addressing the health concern with a focus on established practices that can be enacted by students with the support of health care professionals. Students will… • Design and implementation plan geared toward improving the health of a community. • Evaluate a community health intervention project to provide ideas of best practices. • Communicate their project ideas to the broader community and engage in "flash" conversations to present key ideas via oral communication. • Demonstrate the basic dynamics of collaboration and the delegation of tasks in the group and holding one another accountable for the work. • Discuss how this program idea developed would be evaluated. 4. Module Four- Health Care and the Community. Students will explore each of following constructs and think about them within the context of the project. The who, what, when, where, and why, and how are they critical to the framework of the projects work. • Professionalism Development (development of the knowledge, attitudes, skills, and behaviors that reflect the highest standards in the health care professions). • Interdisciplinary Team Development (taking advantage of the unique opportunities to train and co-create with peers who have different career aspirations in teams). • Diversity (addressing diversity among populations and cultural competency).
Page 5
4 5. Module Five: Finalize projects and design; Organize the project idea to fit within the criteria of the grant application. Students will consider how to employ financial resources to enhance the project and prepare a grant application. • Vision and innovation development. Students will design the process, content and implementation of the project… Are they creative and innovative? Is the plan and timeline realistic? Organized with the ideas model? Have needs been fully articulated? • Informatics development. Students explore how informatics is used to improve the program and how information flow improves learning and the responsiveness of the team. 6. Module Six: Presentation of the program plan and grant Students engage in mock grant review panels to ready them for the formal presentation. HPACs will submit and then present the project to an HPAC grant review panel for consideration. Funding for this proposed project will also support a Community Bank for students to draw upon to support the implementation of their projects once their proposal is approved by the grant review panel. 7. Module seven: Implementation Students meet to review their program plan and logistics given community assets and financial resources awarded from the grant making process or within the already existing resources. Students then implement their project. 8. Module eight: Plan for Evaluation and Dissemination Students evaluate their project and the process with the help of the HPAC leader. They then prepare a presentation for the HPAC Scholars Day conference and practice this presentation at their school and the community prior to going to the HAPC conference.
Page 6
HPAC Competencies Model HPAC Summary The Health Professions Affinity Community HPAC pipeline program designed to engage students in the health concerns of their communities help them to develop strategies to address those health concerns with existing community resources and ultimately support their academic and career development leading to health professions HPAC encourages students and their communities to focus on their unique local community health challenges learn about and support the community through service learning activities that address pressing health concerns e g obesity bullying depression empower rural and urban communities to employ their resources to support students in their pursuit of health professions training and careers and embed student learning in the fabric of the community from the earliest stages of their education through the time they are ready to practice The HPAC model promotes the expression of student voice by offering activities that inspire students to assert and take charge of their academic and career development by connecting these two important life tasks to the health concerns of students and the opportunity to get engaged in those concerns Students find meaning in these activities which in turn enhances the non academic aspects building increased motivation self management and social connectedness of academic success HPAC offers students the method and means to develop Habits of Mind that will bolster their own academic success future workforce plans and how those plans can become manifested as health care professionals 1
Page 7
HPAC Competencies Model HPAC Summary The Health Professions Affinity Community HPAC pipeline program designed to engage students in the health concerns of their communities help them to develop strategies to address those health concerns with existing community resources and ultimately support their academic and career development leading to health professions HPAC encourages students and their communities to focus on their unique local community health challenges learn about and support the community through service learning activities that address pressing health concerns e g obesity bullying depression empower rural and urban communities to employ their resources to support students in their pursuit of health professions training and careers and embed student learning in the fabric of the community from the earliest stages of their education through the time they are ready to practice The HPAC model promotes the expression of student voice by offering activities that inspire students to assert and take charge of their academic and career development by connecting these two important life tasks to the health concerns of students and the opportunity to get engaged in those concerns Students find meaning in these activities which in turn enhances the non academic aspects building increased motivation self management and social connectedness of academic success HPAC offers students the method and means to develop Habits of Mind that will bolster their own academic success future workforce plans and how those plans can become manifested as health care professionals 1